Enhance your sim racing power with the latest Formula CSX 2. A unique combination of rare design and technology, this steering wheel is designed to fulfill the expectations of a real racer. Featuring backlit buttons, full-colors LCD and improved electronics, 100% pure carbon fiber front plate, CNC aluminum main body, knobs and joystick.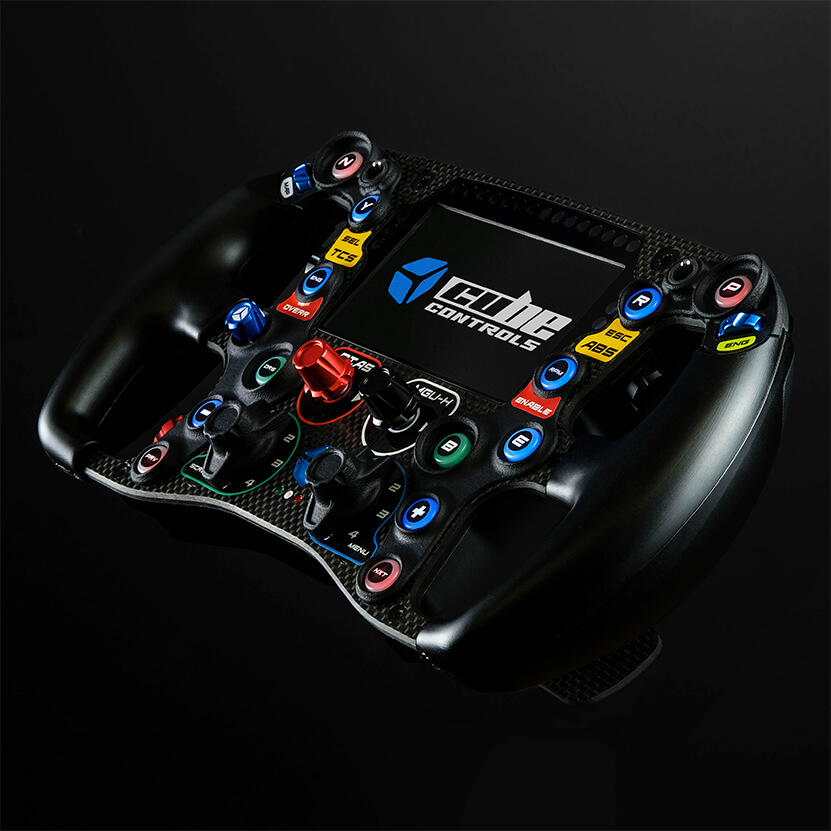 For those looking for a premium experience Formula CSX2 is the solution. With its 4.3-inch color LDC monitor and scratch-resistant glass this steering wheel represents the ultimate in its class. The ability to customize the layout of your dashboard, combined with the Launch Control clutch system, guarantees total control over your racing performance.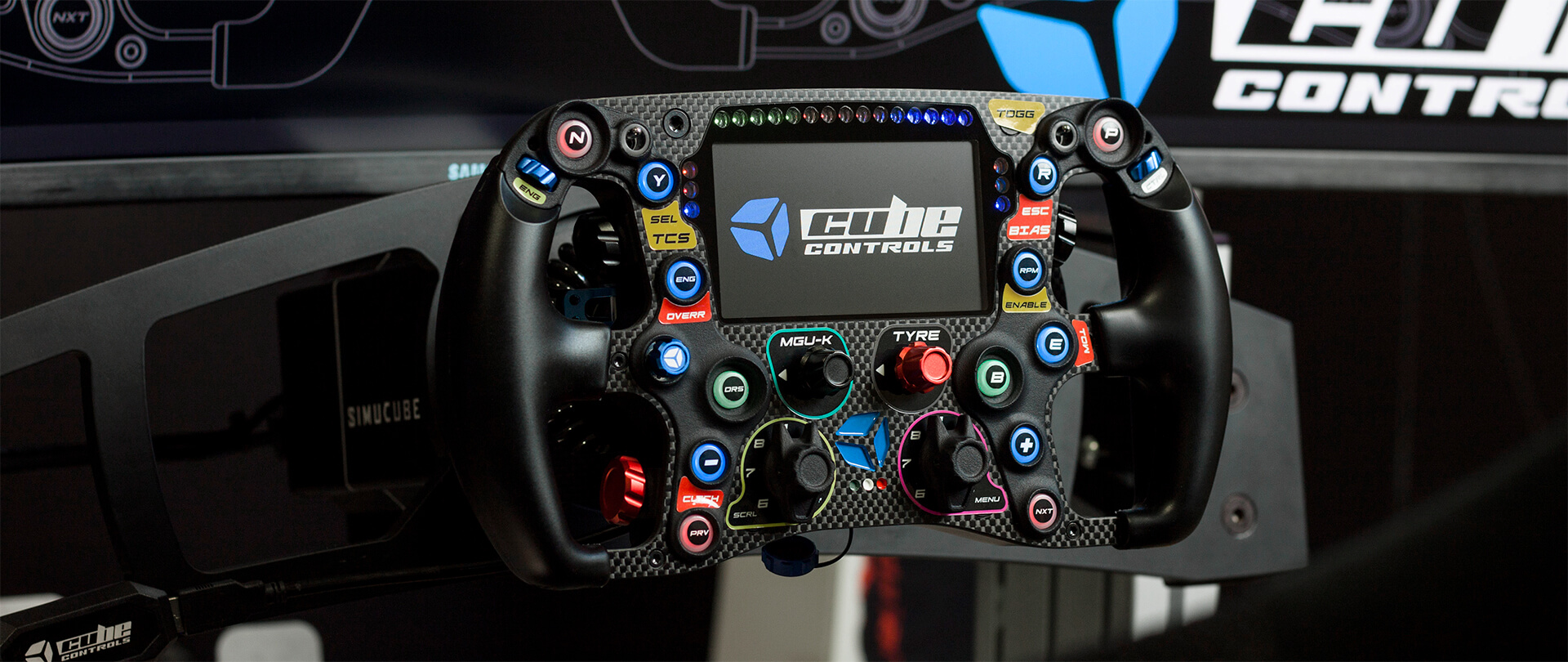 | Formula CSX2 | USB |
| --- | --- |
| Momentary buttons | 13 |
| On/off toggle switches with status led | 2 |
| Grip-to-Grip wheel length | 28,2 cm |
| Grip max diameter | 45 mm |
| Proprietary custom made tactile button assembly | √ |
| Improved button guards with better ergonomics and feeling | √ |
| Straight back charging connector | √ |
| Backlit buttons | √ |
| Clutches | √ |
| Front rotary encoders | 2 |
| Thumb rotary encoders | 2 |
| Thumb rotary encoders integrated into the grips | 2 |
| Front 8-position rotary switches | 2 |
| Zero play short-throw custom-designed magnetic switchless shifter paddles | √ |
| Launch control clutch system | √ |
| Clutch bite-point adjustment knob | √ |
| Multi-directional joystick with integrated encoder | 1 |
| 4.3″ full-color LCD screen with completely customizable layouts and PC configuration utility | √ |
| Anti scratch strengthened display glass | √ |
| In-software clutch and shifters configuration | √ |
| Passive Y splitter USB extension cord | √ |
| Pure carbon fiber front plate | √ |
| Wheel hub compatible with all formula-style quick release hubs (3 bolts, 1-inch and 70mm PCD) | √ |
| Weight | 1180 gr |
| VR friendly | √ |
| CNC machined billet aluminum main body | √ |
Q: What is included with your purchase?
A: Along with your steering wheel, you will receive in the package 1 USB cable, 1 Y splitter extension cord, 1 Sticker Set, the user Manual, and other needed tools to help you through the installation of your wheel.


Q: How can I connect the Formula CSX2 to my PC?
A: To connect your CSX2 to your PC use both the coiled USB cable (wrap it around the wheel hub) and the Y splitter extension cord (possibly plugged into two 3.0 USB backports of your PC).


Q: How can I attach it to my FFB base?
A: Our wheel hubs have an industry-standard 3 M5 holes 50,8mm PCD compatible with various adapters. We can provide them for Thrustmaster, Logitech (Fanatec bases require a Podium Hub purchasable from their store, while Accuforce needs their proprietary adapter). 50,8mm Universal QR will fit directly, as well the QRX. We also provide 50.8mm to 70mm 6 M5 hole conversion adapters.


Q: What's the software to manage the Display?
A: UGT Software (Ultimate Game Tech). You will be able to customize the look and position of each data field. The display is not compatible with any other dashboards on the market (e.g. Z1)


Q: Is the clutch on the Formula wheels analog?
A: Yes it is. Both are mapped on the same axis, and the left one can be adjusted by using the launch control potentiometer.


Q: Are the shifter and clutch paddles adjustable?
A: Yes they are adjustable in reach and depth. We've reserved a 1 cm range which easily adapts to any hand size.


Q: How do the shifter paddles feel?
A: Firm. They have a very short and fast throw with a noticeable tactile clicky feedback. It's built for sim racers.


Q: Can I customise a racing wheel or buy only single components?
A: Unfortunately, we can't customise our products and we can't sell single components. To ensure superior quality we allow to purchase  only whole racing wheels.


Q: What is the product warranty?
A: All our products, as per the European law, are guaranteed for 2 years. The Warranty is reduced to 1 year for products purchased for internal usage by B2B customers (e.g. simulation venues using our products on their own sim rigs).
Additional information
| | |
| --- | --- |
| Weight | 3 kg |
| Dimensions | 32 × 32 × 12 cm |
| Color | Black, Red, Blue |